I joined Jacquie's "Spring to Finish" Challenge
I started with theses blocks ….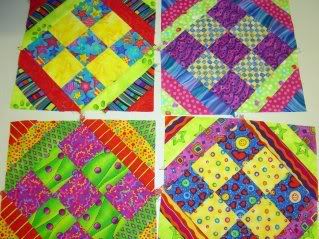 And ended up with this…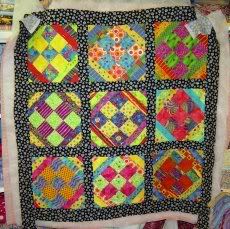 The quilt is a nice size 42 inches by 42 inches. Perfect for the car for little T.
It is layered and basted (boy for me that is the worst part) now I do not machine quilt so I am very excited to say that I will be able to start to hand quilt it tonight as I watch Survivor!! I know it needs to be done by the end of April; I cannot promise that, but thanks to Jacquie, it is now not in my closet as it had been for over 10 years!! Thanks Jacquie!!

I have received two more sets of swap blocks.

Nan- Section 5 Red Star of Hope
I love the choice of the different reds!


Nan also sent me this darling frame, thank you so much, I wonder if I have a picture of little T anywhere??



Ginny Section 4 Light Blue Calico Puzzle
Perfect work!!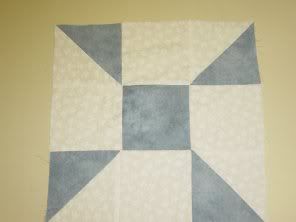 Ginny also sent me this darling burp cloth for little T. Thank you Ginny I love burp cloths and use them all the time. The blue thread matches her perfect blocks.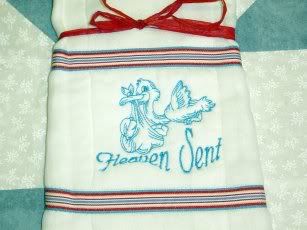 Let's see I have 19 sets of blocks out of the 45 sets I need
SO GIRLS
KEEP THOSE BLOCKS COMING!!!


THANK YOU