Come marching in…

Karen- Section 2 Purple Shoo-Fly
What a beautiful purple fabric!
Perfect points too!!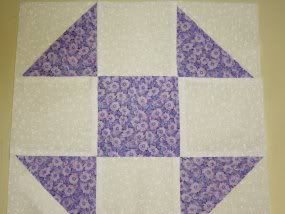 Also Karen Section 5 Orange Shoo-Fly
I know many people will be so happy with this orange fabric!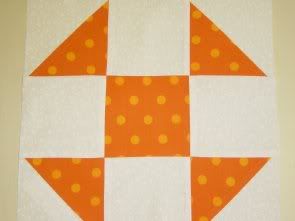 Karen also knows I love cherry fabric so she sent me this vintage piece and a card she made. Thank you so much Karen, just love them!!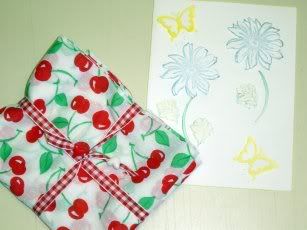 Lurline Section 1 Red pinwheels
Perfect,
Lurline , like me changed her mind a few times, I loved them all and I love this one too!
Michelle Section 1 Light Blue - True Blue
What a block all points, perfect and such a sweet fat quarter for Little T. I will use it for sure, thank you Michelle!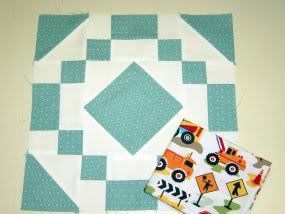 Barbie Section 1 Yellow Bear Paw
Look at all the work that went into this block! and thank you so much for the fabric for little T. It is wonderful!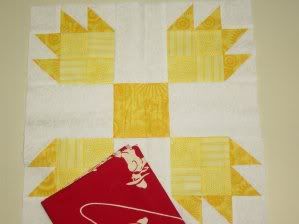 Barbie is also in Section 5 Purple Ohio Star
Another beauty!!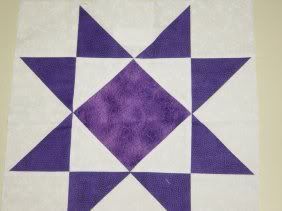 Sherry Section 2 Orange Over and Under
What a neat block!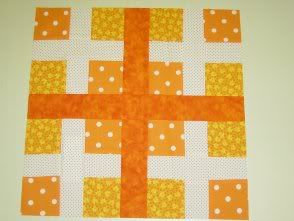 Sherry is also in Section 5 Yellow Lantern Patch
Another fun block!!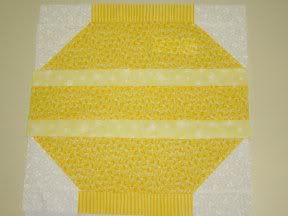 Rachel Section 5 Light Green Pinwheel Star
Such a pretty block and guess what Rachel now has a blog, stop by and say Hi!!
She also gave me this notebook and book-marks thanks Rachel!!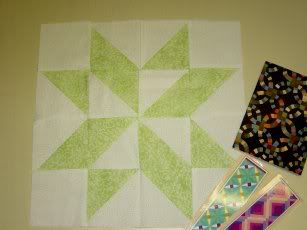 Rachel Section 1 Light Green Patience Corners
I really like the look of this block!! You could do some wonderful quilting in the white areas!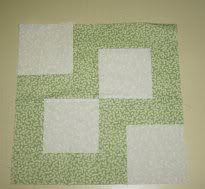 Sue Section 3 Yellow Mini Bow Ties
Such a cute block, I love the different fabrics and the applique square in the middle!!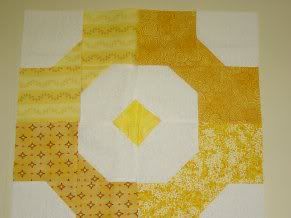 So at the end of this week, I am happy to say Group 1 is complete!!!!
Group 3, I am pulling for you this week as Friday is May 1st. But I bet those machines have been humming all weekend. Thanks everyone!!