So my new Juki and I decided to try our hand at sewing!! I went through my UFO pile and was delighted to find all the nine patches I made for
Amandajean's
Nine-Patch Quilt Along. As you can tell I failed miserably at that task. But, there they were all sweet and pretty, just waiting for me, so out they came.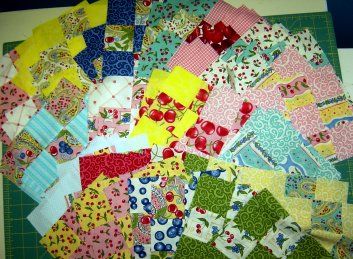 I used the jelly roll "Berry Delicious" by Moda. I just love this fabric.
I am now in the process of added the white strips to connect the blocks, which will make them into rows.

I am so happy to report that Miss Juki and I are getting along famously!!
Sorry been getting spam so comment moderation will be on for a while. Thanks!